Name
TIA MODEL - Teknopar Machine Learning Library
Defined in Task
T5.1, T5.2
Short description
TIA MODEL provides and enables the application of machine learning algorithms and needed to perform smart predictive maintenance for the SWP machinery. TIA MODEL utilizes supervised, unsupervised, multidimensional scaling and reinforcement learning algorithms as needed.
To compare ML models used for predictive analysis, GUIs have been developed.
Example of usage
Below listed algorithms have been used: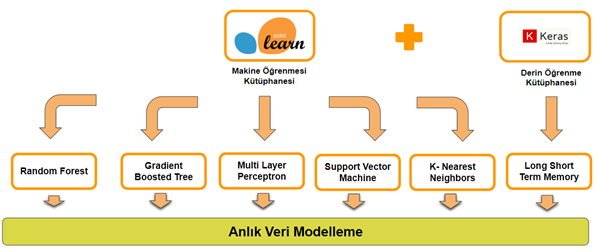 Figure: Algorithms used for machine learning
The developed sample screens are presented in the following Figures.
Figure: Selected Sample TMLL Displays
Interfaces
IDBA data is used by TIA MODEL as input. TMLL output is visualized by ICPV.
Subordinates and platform dependencies
None (platform independent web application)
License
Proprietary/ Subject to license
TRL
The current TRL is 4 (validated in laboratory environment) running to be TRL 6.
References
n/a
To be considered in particular for the following COGNITWIN pilots
NOKSEL